Denver, July 31, 2023 – Oral Health Colorado is thrilled to announce the upcoming Oral Health Online Conference 2023, a groundbreaking event that will bring together industry-leading sponsors and exhibitors in the field of oral health. The virtual conference will take place from 6 to 8 of October and will provide an unprecedented platform for dental professionals to explore the latest advancements in oral healthcare and patient care.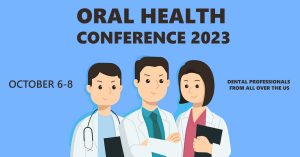 "We are excited to present the Oral Health Online Conference 2023, which offers an innovative and accessible format for dental professionals to engage with cutting-edge products and technologies," said Christy Dodd, Executive Director of Oral Health Colorado. "This conference will serve as a valuable resource to enhance patient care and strengthen dental practices."
The Oral Health Online Conference 2023 will showcase a diverse array of sponsors and exhibitors, reflecting the importance of collaboration and the integration of modern tools in oral healthcare. Participants will have the opportunity to learn about various dental laser technologies and other cutting-edge modalities that are transforming patient care.
Christy Dodd emphasized, "Our commitment to promoting dental laser technologies and complementary modalities is driven by the shared vision of elevating patient care and promoting oral health for all."
Key Highlights of the Oral Health Online Conference 2023
Dental Laser Technology Showcase: Renowned manufacturers will present their latest advancements in diode and CO2 lasers.
Photobiomodulation and Cosmetic Lasers: Attendees will gain insights into the latest developments in photobiomodulation (PBM) and cosmetic lasers from sponsors and exhibitors.
Innovations in Non-Laser Solutions: The conference will welcome innovative non-laser companies showcasing oral care products, periodontal treatment trays, Guided Biofilm Therapy, and voice-activated charting.
Eyewear Protection and Magnification Companies: Participants will have the chance to explore top-of-the-line eyewear protection, magnification, and illumination products from companies.
Practice Management Solutions: Representatives from Fortune Management will be available to discuss practice management solutions and offer valuable insights to dental professionals.
"Oral Health Colorado is dedicated to fostering an environment of knowledge-sharing and continuous improvement in the dental industry," Christy Dodd stated. "We are confident that the Oral Health Online Conference 2023 will equip dental professionals with the tools and knowledge needed to enhance their practice success and deliver exceptional patient care."
Registration and Contact Details
Registration for the Oral Health Online Conference 2023 is now open. For more information and to secure your spot, please visit our website.
For further information, contact us via [email protected] or using this phone number: (970) 324-1635.